In order to supply high quality products
As a specialist enterprise in magnetic materials,MAGPROST completely pursue the high quality requirements
Whether in Japan and in China,In order to ensure quality,MAGPROST masters products control and improvement,conducts appropriate technical guidance,
Double check the products through the inspection result of the factory and the inner inspection system
Datamation of quality measurement results、through real-time reflection,achieve the maintenance of high quality products.
Quality Pursuit
In order to achieve the MAGPROST Quality
For production lines of each factory,MAGPROST will regularly send production managers with rich experience in magnet products
This is not only to raise technical quality,but also to guide and improve the factory process capability continuously from everyday quality inspections。
MAGPROST's quality assurance department will also conduct daily strict inspection of the warehouse 。Datamation of quality measurement results,Look for changes in product quality
If find even a slight change,will be immediately feedback to the production line。Make the whole system guarantee the high quality of the product。
In this stable and effective inspection system,Form a system that provides a stable supply of high-quality products,Therefore, we are deeply trusted by our customers.

Completely check system
Control real-time quality inspection system
The quality assurance department is equipped with quality inspection instruments,conducts strict quality inspection every day。Datamation of quality measurement results
In order to quickly detect changes in quality。Information will be quickly feedback to the production site。The organized management system win the trust of the customers.

Evaluation facility・Processing equipment
Equipped with evaluation facility・processing equipment Niigata business division
MAGPROST's Niigata business division equipped all kinds of measuring instruments to manage quality,and also equipped with processing equipment,can deal with the high difficulty of the magnetization process and the response sample phase verification quickly
In addition,the products shipped through logistics will be kept in Niigata business division every month
Therefore, the inventory can be used to deal with small delivery and short L/T.The flexible supply system can quickly reponse to the various needs of customers.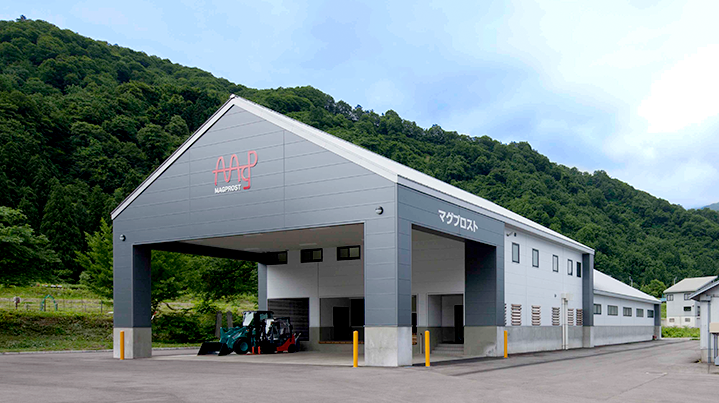 ISO9001・ISO14001【International standard】
MAGPROST has passed the standards of two types of ISO (International Organization for Standardization) and
respond to the management system according to international standards.
ISO certification (quality management system) ISO 9001: 2015 registration certificate number JQA-QMA15745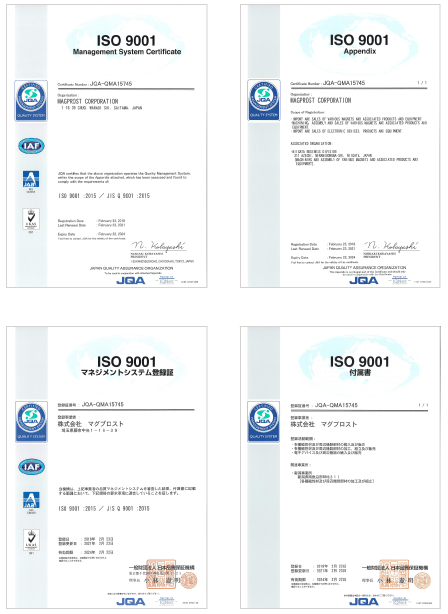 ISO certification (environmental management system) ISO 14001: 2015 Registration certificate number JQA-EM74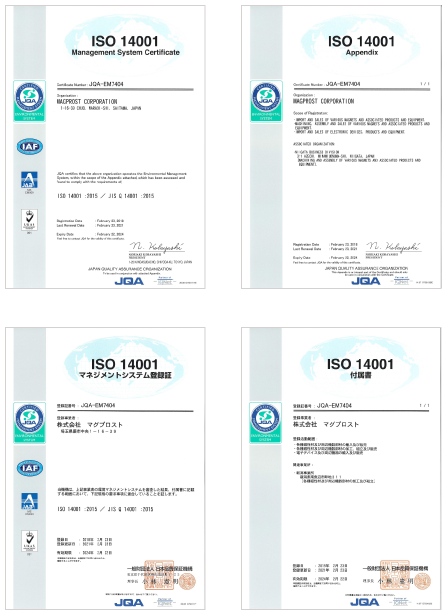 ■test instrument(evaluate size)
■Test Instrument(Evaluate Size)
Test Instrument(Electrical Properties)
■test instrument(magnetic performance)
■test instrument(stress appraisal)
■stereoscopic microscope
■environmental test device
■magnetization equipment
Magnetic field analysis program JMAG verification
The magnetic field analyze at the initial stage,Then propose the best material
agnetic field analysis image